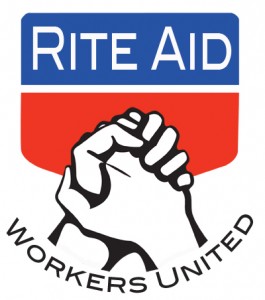 Yes, it was a UFCW Union issue that really got up Rite-Aid's ass, not the benign, adult, modern, 21st Century, harmless testosterone-charged threat of violence. Those of you who are pharmacist members of this union need to bring some pressure to bear. If the UFCW Union throws David Stanley under the bus, what about you?  Why pay union dues if they are not going to stand up for you.  Pharmacists are not some ancillary membership group.   They are real members.
I was looking through my archives and found this.   The Drug Monkey's Blog and then Drug Topics taking him on as a regular columnist must have been eating RAD's lunch.  I wonder what took them so long?  The second message is an anonymous (Smart Manager) laying the leather to Big Stupid.  RAD Stock price as I write this $1.18 per share.  How much less that a 20 ounce Mountain Dew?   Trust me, all of you RAD loyalists, your company is one missed payment to Cardinal from the "Raika".  That is Finnish for hole.  Once in, never out.  I'd start peddling myself and my talents and experience right now.  If I was young .. under 40.. I'd be at the Small Business Administration with my hat in my hand.  You would get the loan.   With all of the "Dispensing Robots" coming out of the for-profit pharmacy schools,  you could easily take CVS and Rite-Aid customers.  You need more than Rx, however.  You need a good 40% t0 60% niche department.
May, 2011.  A source at Rite-Aid called and reported on Rite-Aid's "Social Networking Policy".  This is new and the craziest idea yet from an executive suite that is in a death spiral
Pharmacists are asked to sign off on this policy.  It is aimed at their use of Facebook and Twitter primarily, but could extend to their private e-mails.
Pharmacists are not allowed to discuss their jobs on any social media.  This is obviously an attempt to stifle negative comments.  If they say anything, they are required to post a disclaimer that they do not represent Rite-Aid.  Twitter?  Impossible.  Not enough characters!
They agree not to use pseudonyms.  I fall down laughing.  They are not allowed to call themselves "Ass-Wipe RAD RPh".
They agree, as an RAD employee, not to use bad or adult language.
They agree not to disparage Wal-Mart, CVS, WAG, Kroger, Safeway or any other "competitor".
Supervisors are not allowed to take action against bad boys and girls until they have talked with Human Resources.
According to my source, this policy applies to all employees, cashiers and up.
Now, From The Non-Pharmacist Manager
I have worked for a number of major companies, in a number of different fields. But I can confirm that Rite Aid is by far the most blatantly mismanaged I have ever come across. District Manager vary wildly on requirements, enforcement and expectations. Store openings are not based on performance strictly, they are kept within districts. Even if those districts are arbitrary locations. The ability of this company to manage talent is beyond reprehensible. I do agree however that there is a place for Rite Aid, and it fills an important void that can't be filled by the CVSs and Walgreens. I will give Rite Aid a bit of credit in now finally realizing we are not ever going to be the same as the 2 leaders. Instead finding decent ideas (like actually marketing the 15 minute guarantee), increasing partnerships based on areas and needs. I actually really enjoy my job, and hope the company can continue its slow road back. But unfortunately it appears to be the old story of 2 steps forward…
I am a Rite Aid Manager (not RX), and can confirm a large percentage of the social networking information you mentioned from your source. However a point of contention: the policy does not state pseudonym is not allowed- it merely states that if needed they will take steps to FIND OUT WHO YOU ARE. The worst part is, thats not even the most troubling thing in this new policy. It is very explicit in stating that as a Rite Aid employee you are responsible for the content of your social media communications, even if your social media communications are done entirely off the clock, not on company equipment or company property. Even if your communications are set to being entirely private.
As far as it pertains to representing Rite Aid, I can almost understand the policy. There have been instances of Rite Aid managers and pharmacists joining Couponing Message boards, or complaint boards and inflaming customers, while admitting they work for Rite Aid. This of course makes the company look terrible, because in those instances they are actively representing the company. I understand the need for a strongly worded policy regarding the importance of not disclosing any information that may be considered a HIPPA violation. These type of communications are the ones where you are required to indicate that you do not represent Rite Aid in anyway.
Unfortunately, the policy does not restrict itself to situations where Rite Aid is being represented. The policy basically states any personal private social media communication is subject to the policies and procedures of Rite Aid. No obscenity, profanity, mentions of drug use, or jokes/comments about protected classes of people. In theory, you could not have a discussion about terrorism with a former college prof. as you may meander into discussion that could be seen as offensive to Muslims. You can't debate the merits of gay marriage on a message board for the same reason. And obviously you can't do far more offensive things that are protected by the constitution- even if you do them on your own time. Furthermore, the expectation is that you would delete any comment you have control of that someone else makes. Again, this is expected even if your profiles are set to private.
Now I presume that these policies are mostly just lip service. Overstatements of discipline in order to cover themselves should an egregious issue occur like a HIPAA violation, or a gross misrepresentation of the company on a public forum. However, Rite Aid has significantly overstepped the bounds of their ability to restrict the rights of their employees off the clock, as rite aid employees are not public figures, and not representatives of the company they work for. This is not weight clause at Hooters, or a non-compete for a News Anchor. These are, by and large, part time associates making $8-$9 an hour while working. I'm not sure that sum buys away their rights off the clock.
Just to be safe, This message was not in anyway endorsed, nor approved by my employer.
2 Comments »
RSS feed for comments on this post.
---