Aug 3, 2013
Jp Enlarged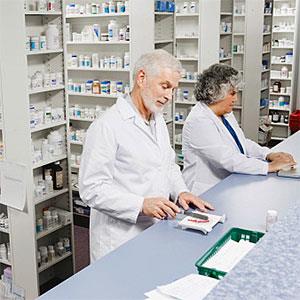 The following were in my e-mail in-box this morning. Jay Pee
Hi Jim
I was wondering if you had seen this yet?
http://www.drugstorenews.com/article/ama-adopts-resolution-pharmacist-drug-inquiries
What kind of garbage is that? Pharmacist inquiries to MDS are an "interference in the practice of medicine"?  I know this was primarily spurred by the need to reign in the overuse of narcotics, but as a technician I can see how many times the RPHs in my store have saved the doctor's bacon. Maybe my RPHs should just fill the Ciprodex 4 gtts PO instead of calling the doc for clarification? The same with the other daily errors they catch? I mean, what's a few injured/dead patients compared to "interfering" with the practice of medicine? (That was pure sarcasm in case you couldn't tell.)
If you decide to put this in the blog, please don't use my name. I work for Big Stupid and the District Pharmacy Manager already has me pegged as a bit of a troublemaker, so I don't want to be tagged by something as idiotic as the social media policy.
Keep up the good work with the blog. I learn a lot from reading it. Documentation has been my favorite lesson so far.
…………………………………………………..
Published on Drug Topics (http://drugtopics.modernmedicine.com)
---

This was published in Drug Topics blog.  It bothered me because I worked for WAG and I know how careful the company is.  What got me was, again, the evidence that we, at the bottom of the funnel, are taking the heat.  What about the prescribers?  Pharmacy has been the armpit of the medical system for decades.  Now it is worse.  Pharmacy is the scapegoat.
This guy with MS, fibromyalgia (another phantom condition) and peripheral neuropathy.. does he really need oxycodone?  How about tramadol, APAP and gabapentin?  I would question this guy and I would do some serious soul-searching, just as WAG is doing.  I'd ask, "Why have you given this Bozo a free pass for so long?"
The last paragraph.  The perception that this doctor held that pharmacists were simply "prescription-fillers" really gripes me.   What is it 1965?  That is our fault.
Walgreens pharmacists denying some pain med clients
Publish Date: JUL 29,2013
Some customers in the Indianapolis area are furious about a new Walgreens policy that has forced some to wait up to 5 days to fill pain medications and left others feeling humiliated.
According to an investigative report by television station WTHR, shortly after the Drug Enforcement Agency (DEA) fined Walgreens $80 million for record-keeping and dispensing violations, the chain began requiring its pharmacists to call doctor's offices to verify prescriptions and check patient's drug histories before filling certain types of medication.
DEA cited Walgreens, the nation's largest pharmacy chain, for unprecedented violations resulting in oxycodone and other pain medications being diverted for illegal sale on the black market. Walgreens said it has added steps to prevent illegal diversion of control substances and those steps may "take extra time."
One customer, a man in his 30s that WTHR said was diagnosed with a combination of multiple sclerosis, fibromyalgia, and peripheral neuropathy, had filled his prescriptions without incident for 2 years at the same Walgreens location. He said he got quite a surprise when he attempted to refill his prescriptions.
"I couldn't believe it. They actually threatened to call the cops. I've been a loyal customer for a long time, and all of a sudden, I was told to leave the premises or the police would be called," the man told WTHR.
Since the man reportedly only had a 1-day supply of the Oxycontin he uses for chronic pain, he asked for his prescriptions back so he could take it to a different pharmacy.
"[The pharmacist said] 'I've already started the process and now it's out of my hands. I am not giving it back to you,'" the man told WTHR. "I felt kind of panicked and I told him, 'I don't think you can do that.' That's when he told me to leave or he'd call the police… I had no choice but to leave them there until he was able to fill them."
The pharmacy refilled the prescription 3½ days later. "It was living hell. Living hell," the man said. "I was in pretty bad shape and there was literally nothing I could do. I was out of medication and I couldn't even get out of bed. I was so sick, I had to send someone else to Walgreens to pick it up for me. The whole thing is just absurd."
Walgreens issued a statement in which it said the new policy is designed to curb prescription drug abuse. "With the sharp rise in the abuse of prescription painkillers in recent years, healthcare professionals in all practices are continuously striving to find better ways of ensuring those medications are used only for legitimate medical purposes. We are working to ensure our patients continue to have access to the medications they need while fulfilling our role in reducing the potential abuse of controlled substances," the statement read.
"We have recently taken a number of steps to provide additional guidance and training to our pharmacies on the proper handling of controlled substances. Because of the legal requirements placed on pharmacists to verify that controlled substance prescriptions are issued for a legitimate medical purpose, pharmacists may need to gather additional patient information from their prescribing physician's office. This diligence may take extra time."
Another Walgreens customer said she was told to take her business elsewhere when she attempted to refill her pain-medication prescription. "They refused [to fill] it. [The pharmacist said] 'We suggest you take it to CVS. At this point we're just feeding an addiction.' He was very loud and it was right in the open when he basically called me an addict," she told WTHR. "At that point, I was just so upset I left."
Some doctors are also complaining about delays caused by Walgreens new policy. "The pharmacy will call and further investigate. They'll say 'Why is this patient getting this script? What's wrong with them? What's the diagnosis? How long are they going to be on it? How long have they been on it?'" Ed Kowlowitz, medical director, Center for Pain Management in Indianapolis, told WTHR. "They're not just filling scripts anymore."