Jan 24, 2014
Jp Enlarged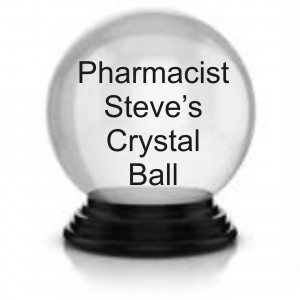 I WANT TO KNOW THE LONG VERSION OF STEVE'S THOUGHTS ABOUT THIS GOOD PHARMACIST BEING SACRIFICED TO THE WHIMS OF AN MBA MASTER OF THE UNIVERSE.
OH, I FORGOT. PRACTICING PHARMACY IS NOT IN THE JOB DESCRIPTION.  FAST, FASTER AND WAIT TIMES IS THE JOB.  A METRIC SATISFYING MANAGEMENT OF THE PRESCRIPTION MILL IS WHAT KEEPS CVS OFF YOUR BACK.  'PRACTICING PHARMACY'? WHAT AN OLD-FASHIONED IDEA.
CVS PHARMACISTS.  CAN YOU LET HER TWIST IN THE WIND, ALL ALONE?  DO YOU HAVE ANY SPINE AT ALL?
I read with great interest the article "The Political-Medical Complex " by Robert L. Mabee, Rph, JD, MBA, published in Drug Topics on December 10, 2013. I have had the privilege of speaking with Mr. Mabee on several occasions in the past year, and consider his opinion to have particular weight and merit.  His unique qualifications as a pharmacist, a lawyer, and MBA, as well as his personal values and common sense approach were a great help to me and a sustaining voice of reason as I tried to make sense of a profession that has been hijacked by the chains, the insurance industry, the pharmaceutical companies, and indeed, even our once trusted academia and state boards.  In our profession, as in many other professions and occupations, those of us who do the actual work at ground level have no voice. We have never been able to organize, we are afraid for our livelihood, and we do not have the funds to influence and elect politicians who will represent us. We accepted the word of university faculty that promised that pharmacy would soon be elevated to going beyond count pour lick and stick. We kept thinking that if we just held on and kept increasing our skills and working hard, that this dream would eventually materialize. All we needed was time. Meanwhile, the chains and hospitals kept cutting back our support staff  and increasing our responsibility, ensuring that we remained exhausted and separated by virtue of our long hours, lack of breaks, and outlandish schedules. Our compliant and people- pleasing nature, our extreme sense of responsibility, and our self-destructive work ethic also took a toll on our energy and self-esteem. We became our own worst enemies.    Meanwhile, the big chains infiltrated our state boards of pharmacy, donated money to our colleges and universities, and accepted kickbacks from the pharmaceutical companies. Staff and professionals at local hospitals and doctor's offices became employees of huge corporations as their hospitals and medical complexes were bought out and swallowed up. Medical decisions were increasingly dictated by insurance companies, P and T committees, and hospital administrators, as well as the CEO's of the medical machine.  In reading a book entitled "How to Live…A Search for Wisdom from Old People while They are Still on This Earth, I came across the story of Granny D. At the age of 89, Doris Haddock, a.k.a. Granny D, walked 3,200 miles in 14 months to support the McCain-Feingold bill and its limiting of lobby-based or "soft" campaign financing. Two months after finishing her walk, she was arrested, handcuffed, and taken to the police station for reading the Declaration of Independence aloud under the Rotunda of the Capitol in Washington DC.  When she appeared before the judge two months later, she said:  "Your honor, the old woman who stands before you was arrested for reading the Declaration of Independence in America's Capitol building. I did not raise my voice to do so, and I blocked no hall… Your honor, we would never seek to Abolish our dear United States. But alter it? Yes. It is our constant intention that it should be a government of, by, and for the People, not the special interests…In my 90 years, this is the first time I have been arrested. I risk my good name, for I do indeed Care what my neighbors think about me. But, your honor, some of us do not have much power, except to put our bodies in the Way of justice—to picket, to walk, or to just stand in the way. It will not change the world overnight, but it is all we can do."    The time will come when those of us who know what is going on will have to stand up. Many of us are afraid, have been disrespected, harassed, and had our lives upended. Our self-esteem is in the toilet. Those who have not been "excised" have been forced to endure brutal working conditions, threats and ill treatment. District Managers, Store Managers, and even some of our technicians spy on us, second guess our decisions, and report us if we step out of line. The public and other health care professionals treat us with disrespect, and we grovel and apologize in fear that we will lose our jobs. We work on the ragged edge of control, hoping every day that we do not hurt or kill someone because of the pressure and stress.  And now there are rumors (and substantiated evidence) that our pay will be decreased and ourhours reduced so that our employers do not have to provide us with benefits.   If you have not been shaken up or forced to change , your time is coming. Those of us who have been forced to face the truth are out here. Our numbers are escalating. We are hurt and angry at what has happened to us. Maybe it is time to unlock the golden handcuffs and make a leap of faith.   Kimberly A. Ankenbruck Rph